I've been re-watching a few mystery themed films in the last couple of weeks, so decided to share my thoughts on one of them. This was a film I loved the first time round, but weirdly my second experience was more lacklustre. I'm not sure why, maybe I wasn't in the right sort of mood or perhaps it is better enjoyed without knowing how the story will end.  For those who haven't seen this film before here is a quick synopsis:
'Cary Grant and a stellar cast romp through this classic farce based on Joseph Kesselring's 1941 Broadway hit and breezily directed by Frank Capra. Frazzled drama critic Mortimer Brewster (Grant) has two aunts (Josephine Hull and Jean Adair) who ply lonely geezers with poisoned libations, one sociopathic brother (Raymond Massey) who looks like Boris Karloff, one bonkers brother (John Alexander) who thinks he's Teddy Roosevelt, one impatient new bride (Priscilla Lane) – and only one night to make it turn out all right.'
As you can see from this outline, Arsenic and Old Lace, has somewhat of a zany plot. Yet surprisingly it has an eerily conventional opening. We are initially told it is Halloween and the credit graphics ensure this is not too much of a surprise to the audience. However, the film proper opens with an everyday scene in Brooklyn, followed by a registry office in New York. The first few minutes of the film reside much more in the romantic/social comedy genre, as Mortimer tries to hide the fact he is getting married from the press. Even after that, the next location change takes us to suburban Brooklyn, to an old house near a churchyard, lived in by Mortimer's two respectable aunts. The only hint we get of the mayhem which will unfold is the final on screen text: 'From here in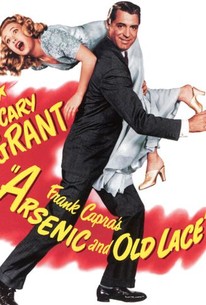 you're on your own.'
Nevertheless the bombshell which hits Mortimer, that his two aunts are serial killers, is still a shock to the audience and it is shocking because these two old ladies think they're doing a good thing and don't see anything wrong with their behaviour. Though in fact what makes this scene so effective is Mortimer, who is playing the straight man. Grant's performance is paramount to the success of the film and in these moments of the film he is brilliant, with his changing reactions to the situation, moving from incredulity to horror and incomprehension, as his aunts perceive him as the mad one. It also means the audience quickly sympathises with him as he is the only sane character who is in possession of the knowledge of what is going on and the pressure of this situation is an interesting one to watch unfold. Of course he desperately tries to hide the truth from those outside of the family, which in turn cranks up the tension and pressure for him.
But just as you get your head around this situation, the plot deviates in another direction, with the arrival of Jonathan Brewster, who definitely gives the film a Halloween/Frankenstein feel and the table turning that this character causes works well. A running joke is that his drunken plastic surgeon has given him a new face which makes him look like Boris Karloff and ironically Karloff played the role in the Broadway production.
Yes the plot is excessive, but it remarkably gets away with it and is almost fitting in a way, with its increasing sense of madness. Social comedy bookends the film, (with a nice nod to Oscar Wilde's The Importance of Being Earnest,) but in between times it is an intriguing mixture of dark and light, horror and comedy, so much so that the plot sits on a knife edge at points, as the audience can't decide which way things will work out.
So I'm not sure what my final verdict of this film is. I can see all of its good points, yet my second viewing was not as good as I anticipated it to be. Maybe some time in the future I will watch it one more time and see which side I land on. The best of three.