Source: Review Copy (Palgrave Macmillan)
The Sherlock Holmes stories were my first real taste of detective fiction and I haven't really looked back since, so I was excited to read this collection of essays on them. For fans of the BBC's Sherlock, this collection will be of particular interest as many of the pieces focus on it, in a myriad of ways; though understandably they don't cover the most recent series. However, context in this, well, context, is not just concerned with adaptations, but also with the historical and social context of the original works and how widely they have been transferred to other mediums and cultures. One quote I especially liked from the introduction, was one by Ellery Queen, who for an anthology in 1944 wrote: 'that more has been written about Sherlock Holmes than about any other character in fiction. It is further true that more has been written about Holmes by others than by Doyle himself.'
The opening essay by Ann McCellan, entitled "All that Matters is the work": Text and Adaptation in Sherlock', is concerned with how the series 'plays with the Barthian concept of "text," thus creating an interconnectedness with the original Doyle canon and other Sherlock Holmes adaptations.' For those like me who responded to this statement with "Barth who?," McCellan gives a very good and succinct definition of this concept. In particular McCellan explores how like a "text" (as opposed to a canonical "work," with a 'single authoritative voice and perspective,') Sherlock has a 'dialogic' relationship with the original stories, juggling fidelity to them with intertextuality with other adaptations. "Text" is also shown to be treated in 'both a literal and metaphorical sense' and McCellan spends some time analysing the role of text messages and other written communications in the series, as often Sherlock's thoughts are visually shown on screen. All of which are part of how the series appropriates and adapts the original works. I also enjoyed McCellan's close attention to detail even showing how the changing of the wording in the credits links to the wider themes she is addressing. I think my only issue with this piece is the use of screen shots from the series. Whilst I think it is a good way of backing up a point, especially if it is referring to visual evidence, a number of the pictures are so black you can barely make them out, whilst others didn't seem very necessary and then there were others were even after a long look I couldn't see the item McCellan was referring to.
Next up is another piece on Sherlock by Benedick Turner and as the title suggests, 'Clients Who Disappear and Colleagues Who Cannot Compete: Female Characters in the BBC's Sherlock', this is an essay which critiques the way female characters appear in the show. A key issue with the series which I hadn't really thought about until I read this piece, was the negation of well-developed female characters. One point Turner discusses strongly is how Sherlock in the BBC drama differently treats the few female clients he has, as opposed to Doyle's original character who values the pluckiness and intelligence of clients such as Violet Smith or Mary Morsten. Female clients are far and few between and in situations where they would be able to offer useful skills and resources, such as Mary (who later becomes John's wife), they are kept out of the way whilst their case is being solved. Once you become aware of this idea it is hard to not see it in the series and Turner backs up his ideas effectively. Irene Alder and Mary Watson are two key characters Turner explores and interestingly they are not as empowered as they might first seem. Equally Turner also turns his attention to Sergeant Donovan, as an antagonist of Holmes and Molly Hooper, who is a 'proxy for the audience.' Competitiveness and a desire for Holmes to not be competing with capable and competent women is one reason Turner explores whilst looking at these characters and their presence or lack of. Given what happens to and due to women in the latest series in Sherlock I think the issue of gender and how it is portrayed in this production is a pertinent one.
The theme of gender depictions continues in the next article by Charlotte Beyer: "I, Too, Mourn the Loss": Mrs Hudson and the Absence of Sherlock Holmes', which looks at the role of Mrs Hudson and how older women are portrayed in contemporary culture. This portrayal is far from ideal and often marginalises this particular demographic, which Beyer explores through the two Sherlock episodes: 'The Reichenbach Fall' and 'The Empty Hearse, contrasting them with Margaret Maron's story, 'The Adventure of the Concert Pianist.' This was a thought provoking piece for me, as whilst I can see how Mrs Hudson has a marginalised role in the original stories and in the BBC
adaptation, I am unsure how her role could be increased without undermining and fundamentally changing the structures of the story and its more central characters. The Maron story gives much greater agency to Mrs Hudson, allowing her to solve a case in Holmes' absence, (he has supposedly gone over the Falls at this point), however I think whilst this is an interesting experiment and a good one off idea, I don't know how this could be transferred into the original Holmes stories. I think in some ways Mrs Hudson is given more agency in the BBC adaptation as she is given a much racier backstory and in series 4 she does manage to put Sherlock in her car boot at gunpoint. I would be really interested to hear other people's thoughts on this area as it has certainly got me thinking.
Benjamin Poore continues the run of essays concerning BBC's Sherlock in the collection's fourth essay: 'The Trickster, Remixed: Sherlock Holmes as Master of Disguise'. Poore examines how the BBC production approaches the issue of disguises. This was not something I had considered, but this production does tend to steer away from explicit disguises and when they are deployed, such as when Holmes pretends to be a waiter when he goes to reveal he is still alive to Watson, it is shown to be a socially inappropriate response. Poore explores such examples and more in this piece, looking at how the trickster element in Holmes make him an anti-heroic character and also the alternative ways the BBC production incorporates the trickster aspect of Holmes.
Fan communities and their use of cosplay and roleplay to explore and recreate fictional worlds and characters is the focus of the next essay by Lynn Duffy. In 'Holmes and his Boswell in Cosplay and Roleplay,' Duffy looks at the processes involved in creating works of fan fiction and the authorial decisions they entail. Moreover, such communities themselves are included in the BBC's Sherlock, which she also explores.
Sam Naidu's contribution to the collection, 'A "Horrific Breakdown of Reason": Holmes and the Postcolonial Anti-Detective Novel, Lost Ground,' focuses 'on
the literary legacy left by the Sherlock Holmes stories and how it manifests in South African crime fiction today.' In particular he is concerned with how postcolonial crime fiction writes back to the supremacy stories such as Doyle's give to reason and rationality. Instead in postcolonial works, such as Lost Ground, Naidu shows how it portrays the 'failure of reason' and that truth will not always be revealed or triumph. From what Naidu says of Lost Ground, it seems to be a continuation of the infallible sleuth mould of detective fiction, echoing E. C. Bentley's Trent's Last Case (1913) and Josephine Tey's Miss Pym Disposes (1946). However it seems that when things do go pear shaped the narrative doesn't sweep the consequences away, the detective has to deal with what they have done or not done.
Continuing on from this last essay, Martin Wagener in 'Sherlock Holmes and the Fiction of Agency,' further critiques Holmes' 'powers of reasoning.' Through a 'comparative reading of "A Case of Identity" and the film There Must Be Giants (1971),' Wagener 'revises the widespread notion that Doyle's stories posited the power of reason and science to master the world, and thereby offered escapist comforts to their Victorian readers.' Again this was another stimulating piece, as I could see how Holmes' deductions are not as sound as they may initially seem, however given the big claims this essay is making, I think it needed to draw on the canon more widely for evidence to support its refutation of escapism offered in Doyle's tales.
This piece is followed by David Grylls' essay, 'The Savage Subtext of The Hound of the Baskervilles,' which looks at the aforementioned title 'in its fin de siècle literary context.' I really enjoyed reading this piece as this is the only Holmes novel I have not read yet and Grylls' exploration of the tension between science and superstition in the novel makes it a tempting read. Grylls intelligently and engagingly looks at the scientific and philosophical issues the novel traverses, as well as touching on themes such as doubling.
The next essay is 'Holmes into Challenger: The Dark Investigator' by Douglas Kerr, which again was another compelling piece, comparing Holmes with Professor Challenger, one of Doyle's other serial characters. In doing so Kerr 'argues that these characters reveal Doyle's complex response to the Victorian knowledge revolution [… and] embody Victorian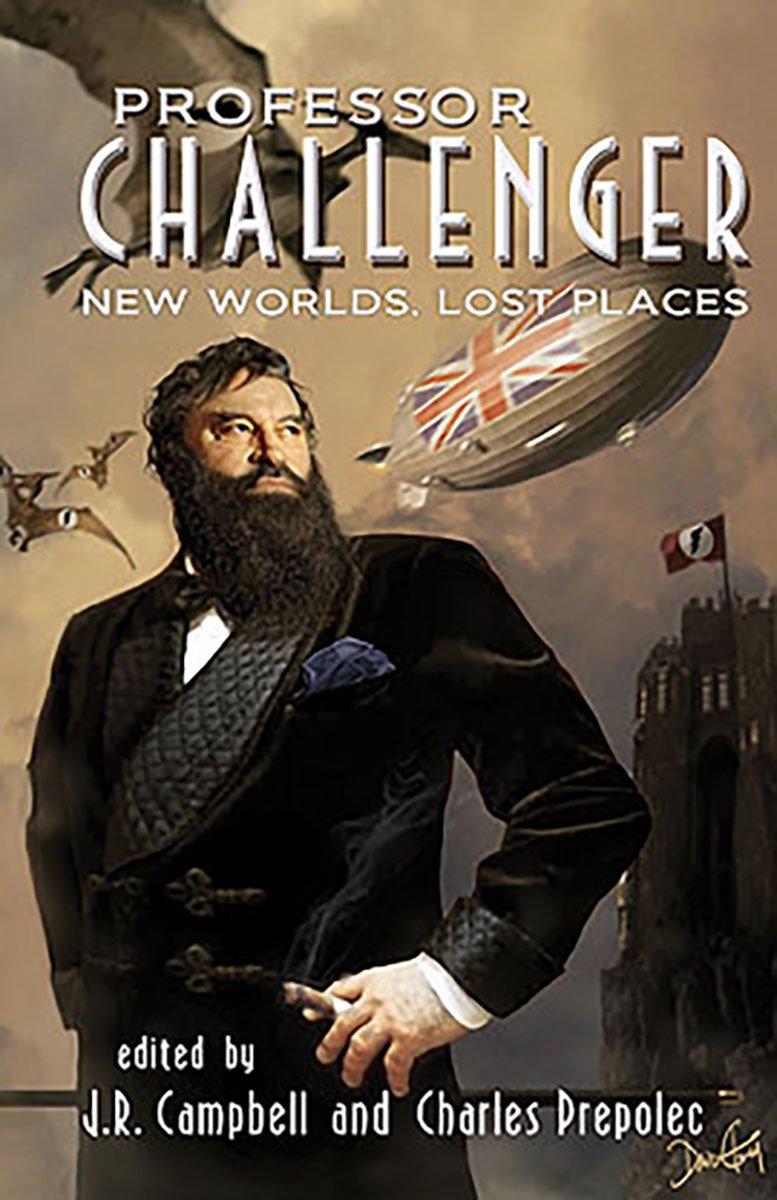 ambivalence between awe and respect for science and anxiety over the growing detachment and irresponsibility of scientists of that era.' I have not read any of the Challenger novels, but Kerr writes in such a way that prior knowledge is not necessary and his extended metaphor of the specialist/expert vs. general practitioner, worked really well for me in reading this piece.
The last essay in the collection is 'Modernising Holmes: Location and Bringing Sherlock into the Twenty-First Century' by Emily Garside, which looks at the use of locations in the BBC's Sherlock. Her piece concentrates on Holmes' flat (which in its modernisation is quite faithful to the original in a number of ways) and also Baskerville (now a military base) and the change from the Reichenback Falls to St Bart's Hospital for the scene of Holmes' death. On the whole this was a good piece though I think the last location to be concentrated on could have been looked at a bit more, as I felt the arguments for it were less convincing than the other sections.
So overall this was a very strong collection of essays, which were engagingly written, thought provoking and stimulating. They follow on well from one another, with essays often picking up similar themes from the previous one but discussing them in a different way. This time it has been quite hard to pick favourites as there are so many really good ones, but if I had to choose, the topics which appealed to me were most were in the pieces by David Grylls, Benjamin Poore, Douglas Kerr and Benedict Turner. Unsurprisingly I definitely recommend this collection for fans of Sherlock Holmes, though I feel the price is a bit prohibitive unfortunately.
Rating: 4.5/5