This month the Tuesday Night Bloggers are exploring love and its variation, as well as its consequences in crime fiction. Last week I delved into mostly golden age detective fiction to examine what suspects and criminals do in the name of love. For this week's post, on Valentine's Day no less, we're off to the movies, as I share some of my favourite mystery films with a love angle. Deciding on which films to pick was tricky as although lots of mystery films have minor romance subplot, such as Rear View Window (1954) and The Green Man (1956), I wouldn't say love and romance was a significant enough aspect.
Two of my film choices include romance amongst amateur sleuths, the first of which is His Girl Friday (1940), where a newspaper scoop brings a divorced couple back into each other's lives. Cary Grant plays Walter Burns, the editor of the Chicago Morning Post, whilst Rosalind Russell plays Hildy Johnson, his ex-wife who is engaged to another man. The pair originally broke up due to the hectic nature of working for the press, with the lure of the next big scoop always getting in the way of their marriage. However, this time Walter hopes that a big scoop may help him win Hildy back. As you can imagine this is a comic mystery film and the dialogue is brilliant, especially between Hildy and Walter. Never has it been so true that the line between hate and love is awfully thin.
My second choice was Woody Allen's Manhattan Murder Mystery (1993). The amateur sleuths are a well-established married couple (played by Woody Allen and Diana Keaton), who increasingly believe that one of their neighbours has murdered their wife. Keaton's character is the most convinced a murder has taken place and a lot of the comedy lies in her and husband disagreeing over this, yet Allen's character still being drawn into investigating the matter. Although their suspicions may be right they don't exactly have much detecting prowess, which again heightens the comedy of the piece.
Whilst Hildy and Walter rekindle their love for one another through a crime investigation, in How to Steal a Million (1966), it seems executing a heist also makes romantic sparks fly. This story is told from the point of view of the burglars and in a way the heist is motivated by a desire to protect another from scandal and ruin. Love also appears to flourish when a character either strives to prove their own innocence or the innocence of another of a certain crime and this is certainly the case in Hitchcock's psychological mystery Spellbound (1945) and rather fun comedy adventure, To Catch a Thief (1955). Both films have quite star studded casts with the first including Ingrid Bergman and Gregory Peck, whilst the latter contains Cary Grant and Grace Kelly no less.
As my post last week shows love and the various forms it takes does not always bring out the best in people and of course love can also die or mutate into feelings of revenge. This also appears in some of my film choices this week, such as Sunset Boulevard (1950), where Gloria Swanson plays an ageing film star called Norma Desmond, who labours to enthral an impoverished writer named Joe Gillis, who is played by William Holden. This is a decidedly one sided relationship, with Gillis sticking around for the luxurious lifestyle on offer and in between times seems to be far more interested in another woman. Norma embodies many forms of negative love, including possessive and unrequited and when faced with the fact that Gillis wishes to leave, a fact which has a detrimental effect on her high levels of vanity, it seems to her there is only one course of action left to take – revenge. In case you are wondering I haven't revealed huge spoilers as the film opens unusually with the end of the story, with the remainder of the film looking at the events which led to it; a structure which really appealed to me. This is a grippingly sinister film, which shows the darker side to Hollywood.
Another favourite film of mine which shows what happens when love dies or looks elsewhere is Hitchcock's Dial M for Murder (1954). In this film a husband decides on an elaborate form of revenge for his wife, whose affections have gone elsewhere, a plan which goes awry in more ways than one. This is an intense and suspense filled drama, where justice is not guaranteed to be served and which is brought to life with excellent acting from Grace Kelly who plays the wife, Margot, and Ray Milland who plays her husband, Tony. In relooking at this film and having re-read Christie's Towards Zero (1944) last year, part of me wonders whether it is a coincidence that like Neville Strange, Tony Wendice has had a career in tennis. Both are tales where spurned men turn to violence and complicated revenge to assuage their anger and pain of rejection.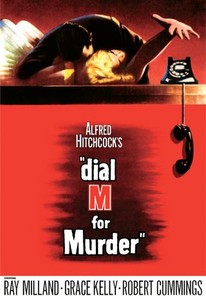 My final film choice is Arsenic and Old Lace (1944), which like a few of my other choices includes Cary Grant (it's not like I had a phase of watching Cary Grant films or anything…). In some ways this is quite a hard film to categorise. There is no linear detective investigation, either by amateur or police and the viewer is soon aware of the different crimes taking place and who is perpetrating them. Instead there is one man, Mortimer Brewster, who has just got married and desperate to take his new wife on their honeymoon, yet he has only one night to uncover all the criminal goings on and ensure they do not continue, whilst keeping suspicion from the police – after all no one wants to see their aunt sent to prison for poisoning lonely men. Although it is immediately evident that this is slapstick comedy caper, on a closer examination love is also an intrinsic part of the plot. It is a love of his aunts which ties Mortimer's hands in many ways. There is also the danger that his endeavours to resolve the problems they are all in will cost him his wife and the comedy between them is brilliant as he tries to hide the truth from her, all the while she gets the wrong end of the stick and thinks he is going off her already.
Although only a TV drama and not a film for the cinema I did also want to give a special mention to the adaptations of the first three Harriet Vane novels by Dorothy L Sayers from the 1980s, featuring Edward Petheridge and Harriet Walter as the sleuthing duo. No month long look at love and crime fiction could avoid talking about Lord Peter Wimsey and Harriet Vane, in which love and detection battle it out for supremacy in each book. The adaptations are brilliant on the whole, though the plot to Gaudy Night (1935) is definitely cut down a lot. Petheridge and Walter recreate the characters of Lord Peter Wimsey and Harriet Vane so well and in the way I had envisaged the characters from the books and they deftly develop the fraught and awkward relationship between the two characters.
So at the end of this post you may well be thinking there have been some big omissions. In the case of films such as Suspicion (1941) and Sabotage (1936), I have watched them and love is key element of them, but for me as my separate reviews of them testify to, are disappointing in various ways. In other cases such as with Rebecca (1940) and Laura (1944), I haven't watched them so didn't feel I could really include them.
Brad at ah sweet mystery blog is collecting the posts this month so head on over to his blog later today to read and his other bloggers' thoughts on love and murder. If you missed last week's roundup post click here.