Vintage Mystery Scavenger Hunt Item: Blunt Instrument
This is the last novel Bruce wrote featuring his serial characters Sergeant Beef and journalist and writer Townsend, who narrates Beef's case. One significant change though is that unlike in the other Bruce novel I read, Case for Three Detectives (1936), Beef is no longer a member of the police force and instead works as a private investigator. The humour is also far less dominant and metafictional and from the opening page we are told that the case Townsend is about to recount had a lasting impact on Beef: 'It was as though for the first time in his life he was in what is rightly called "deadly" earnest. For the first time in his life he was a little bit afraid.'
The case in question involves the murder of Cosmos Ducrow, at his country home in Kent. Cosmos is rather hermit-like, struggling with anxiety around unknown people. At his residence, servants aside, lives his wife Freda, who used to be his nurse, his old school friend Theo Gray and Major Gulley, Cosmos' secretary. At one of the lodge gate houses lives also Cosmos' nephew, Rudolf and his wife Zena. The murder is believed to have occurred during the night, a night of disturbances and as the investigation gets underway it soon seems an awful lot of activity was going during that time. However, before all of that Cosmos is found in the morning outside, his head crushed with a croquet mallet. The initial evidence seems to make a very black case against Rudolf. His fingerprints are on the murder weapon, he was seen outside during the night and like the others benefits a lot from Cosmos' will. With arrest imminent Beef is called in to prove his innocence.
This is no simple case, with motives abounding among the residences for bumping off Cosmos and Beef is subjected to a lack of confidence from pretty much everyone, including Townsend himself! It takes further death and odd events plus a puzzling final showdown before the case is finally put to bed.
Overall Thoughts
In the Case for Three Detectives, Townsend and Beef meet for the first time and are not working together but of course this changed over the series. Yet what struck me the most was how much Townsend, the sidekick character, is embarrassed by Beef – a trait which doesn't feel atypical in such a fictional relationship. Their relationship at times becomes far from amicable. Although in fairness I think this is mostly due to Townsend, a character whose negatives qualities are much more apparent in this story. He is a big social snob, which means in his mind he is forever having to apologise to others for Beef and his less than perfect manners. Townsend contrasts himself and Beef with Watson and Holmes, such as when he says:
'How different, I could not help reflecting, was the conversation of Holmes and Watson while they sat waiting for their clients not half a mile away. If Watson had to make any apology it was for himself, not for the man whose achievements he proudly chronicled, whereas when I looked across the sitting room at Beef I know how much I had to explain.'
Consequently I invariably found myself feeling sorry for Beef and also wondering why he puts up with Townsend; though this is partially answered in the denouement of the book where Beef is finally able to redeem himself and put Townsend in his place.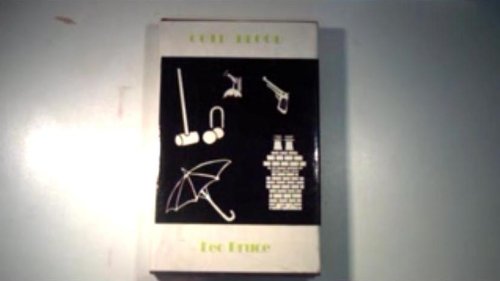 As I mentioned earlier there is much less metafiction in this work than in Case for Three Detectives. However the bits there are, are interesting and enjoyable. For example when Townsend suggests how he has been far more crucial for Beef's fame than Beef's own detecting abilities, he says that:
'Which investigator doesn't find the solution? You need a great deal more than successful detection to make you famous as a detective. You need a peculiar appearance, for one thing. Either enormously tall or minutely small. Very fat or wasting away. Beard, eye glass or some such identification mark. You must resemble an alligator every few pages, like Mrs Bradley, or talk like a peer in an Edwardian farce, like Lord Peter Wimsey. Or use bits of exclamatory French, like Poirot. You must be different, in other words.'
Beef asks whether he is different, to which Townsend replies, 'You are when I've done with you.' But aside from the humour and the nice mention of famous sleuths, the thing that stood out the most for me was how much this story, although published in 1950s, felt very much like a 1930s mystery. Not only is this reinforced by the setting, but it also comes through in a later metafictional comment, when Gray mentions to Beef that he was not his first choice in private investigators: Poirot was engaged on another case, whilst Campion was uninterested, (which seems a shame given the ending of the book) and if Beef did not take on the case, Gray's next choice would be Inspector French. Thankfully for me Beef said yes.
Although I have mostly talked about Beef and Townsend, a shout out should be given to the other characters in the book, as characterisation is definitely a strong point of Bruce's story. In particular it intrigued me that our wealthy victim was not an unpleasant man and in fact it seemed he was much more under the thumb of others. If this had been a true novel of the 1950s or a mystery with a greater psychology focus this area might have been explored further. However the fact it wasn't didn't hugely decrease my enjoyment of the book and for all puzzle fans there is certainly a hefty puzzle for you to get your teeth into. In the 20th chapter the issue of fair play comes up as Townsend tells us that we have all the information Beef has and therefore should be able to arrive at the correct solution. There is even a table with questions included. Personally I didn't really cotton on to what was happening until right at the end but on balance I felt Bruce gave us a very satisfying solution and there were sneaky but good clues in the book. So once again Bruce has delivered another excellent read.
Rating: 4.5/5