This month the Tuesday Night Bloggers have been looking at foreign mysteries and so far this month my reads for this meme have taken us to Chile, the Caribbean, Fiji and our final stop this week is Kenya. I first heard about Kaye when TomCat at Beneath the Stains of Time blog reviewed the same novel earlier this year.
The author's note at the beginning of the novel was interesting as I never realised that Kaye had lived in Kenya for a time when her husband's regiment was sent to deal with the Mau Mau Uprising (1952-1960), which at the time was known as 'The Emergency.' Her experiences in Kenya inspired the book, though she only wrote it once she had left. I think she is keen to emphasise that less enlightened attitudes towards the issue of race, included in the book, are not ones she endorses, as she writes in her note that 'the opinions voiced by my characters were taken from life and at first hand.' Furthermore although the settlers' point of view is definitely conveyed in the book I don't think it is done in an excessive or inappropriate way, unlike when Roger East in Twenty-Five Sanitary Inspectors (1935) has non-white characters delivering overly pro-British sentiments, which seem out of place.
The opening chapters set up the tense and fraught environment the characters are in, in rural Kenya. Most of the action takes place in and round 3-4 homes and their land, owned by white settlers, whose families have been there generations. The Flamingo, the property by Lady Emily Debrett is however, where most of the violent and mysterious events take place. Emily lives with her grandson, Eden (his parents having died in a car crash) and his wife, Alice and it is Alice's point of view, which filters through the book's opening, even if it is Emily's personality which dominates. Alice's nerves are shredded. For weeks a number of increasingly alarming occurrences have happened within the home. Prized possessions destroyed and even a pet dog poisoned. Furthermore, the whole community is on red alert due to 'the Emergency,' with the Flamingo having survived a recent attack from the Mau Mau. Yet Alice is not with us for long, as after having returned from the estate manager, Gilbraith Markham's home, where he lives with his wife Lisa (who incidentally is in love with Eden), she is brutally murdered with a panga. An incident made all the more dramatic as the reader is with her until a few moments before it occurs.
It is into this chaos that Victoria descends, Emily's niece, who Emily asked to come out to Kenya to help with secretarial work and it is Victoria and her experiences which now take over the story. She is anxious about coming as in the past she and Eden were engaged and she thinks she's still in love with him. On arrival she learns of Alice's death, yet it seems Victoria is far from desiring to reignite her relationship with Eden. This may or may not have something to with another white settler, Drew Stratton, who has a Mr Darcy meets Western/Kenyan settler aura and look about him. So no reader is surprised when their relationship begins with glowers and sparring matches.
Although focused on Victoria, this is not really a Had I But Known novel, as she is no amateur sleuth. Yet through her experiences at the Flamingo and with Emily's neighbours, secrets begin to be unfurled and private grudges revealed. Moreover, further mysterious events occur from a witness who disappears before they can be interviewed, yet leave damning second hand evidence for one of the white settlers and death also strikes again.
Overall Thoughts
This is definitely a novel about the women, although there is a full cast of male counterparts. Kaye gives her readers a full range of female types. We have Lisa who is bored with rural life and her drunkard of a husband and who tries to find solace in an illicit romance. The book also runs to a devoted mother and of course Victoria, who although not very active on the detecting front is by and large sensible. There is also Emily, who has had a nearly life-long love for Kenya and has worked tirelessly to run her estate since her husband's early death. Work which the narrator suggests has aged her. She is definitely a practical rather than an emotional type and in her old age is seen as bit eccentric due to her choice of bright dungarees, which she often wears with a 'shirt and a man's double-terai hat.' Emily is also part of the remaining community of people brought up within the British Imperialist culture and even at 72 still envisages what she and her family can do to develop and improve Kenya. Early on we are told that she wanted many descendants, 'a Kenya dynasty! A hundred years from now… there will Debretts living in this house and farming this land when Kenya is no longer a raw new colony, but a great and prosperous country…' Yet as I will explore later her static viewpoint of Kenya and its native people is revealed to not only be patronising but also to be hugely in denial of the changes the country was undergoing.
The Mau Mau uprising as I mentioned earlier is the backdrop to this story and throughout the story there is a considerable anxiety that the crimes that have taken place are involved with this uprising. This was an uprising which centred on resistance towards British rule and the entailed loss of land, as well the disparity in wealth and rights between the native Kenyans and the more opulent white settlers. The injustice of which was increased by the fact that many Kenyan tribesmen fought for the British in WW2, yet received limited freedom and opportunities for prosperity in their own lands. One idea which comes up quickly in the book is the way some of the landowners are ignoring the warning signs, choosing to believe that 'the emergency' is over. These characters are shown as resistant to change and are depicted as despots of their own land, taking 'the law into their own hands' and it is said 'how their own little patch of land can end up by becoming the centre of the universe to them'. The patronising attitude of such characters also comes across in the way they refuse to believe that their Kikuyu servants could be involved in any way with the Mau Mau, assuming family loyalty, in a pet like manner 'Treat 'em right and they'll be loyal.'
Yet Kaye does not depict the conflict in easily defined black and white terms, with morality becoming decidedly muddied, as both sides are said to have committed violent acts, fuelled by similar anxieties and need for revenge. The question of land ownership is also shown to be a thorny issue, as Drew, who was born in Kenya, feels entitled to his land, as before his family took it over it was a wasteland and he asserts that the Kikuyu who have joined the Mau Mau and are wanting land did not own his in the first place. From his point of view he identifies himself as a Kenyan and thinks the work and toil he and his family put into the land entitles him to hold on to it. His settlers' viewpoint is also bolstered by a side swipe towards America, deeming that if he had to give his land back then the land the Native Americans lost should also be returned. However as I have said this angle of the book is not overdone, but contextualises the story and gives the reader a greater sense of what it was like to be a settler living in Kenya at the time: 'a strange country torn with savagery and violence, where even the women carried guns and all men were afraid of the night.'
N.B. Even from my brief reading on the subject of the Mau Mau uprising I can tell that Kaye does not explore the event, minimising the causes of the uprising and not mentioning places such as the concentration camps where Mau Mau prisoners were kept.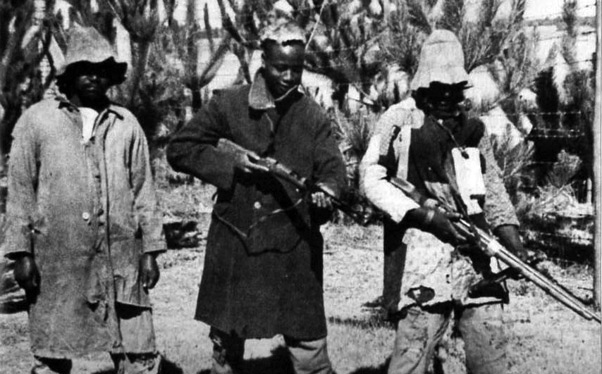 When the book begins you start by feeling sorry for Alice, who is worried about Victoria's arrival and it is easy to start thinking of Victoria as a likely temptress. However, this image is unfounded and as you get to know Victoria more, you sympathise with her and have a vested interest in her, hoping she'll avoid the unworthy Eden. Eden in himself was an intriguing character as we never get much time inside in his head and our introduction to him is via second hand accounts. He is very handsome, which draws many a female to him and Victoria astutely thinks that his looks prevent others from really getting to know him: 'How can anyone tell what he is really like when they can't get beyond what he looks like?' I think Kaye did the Drew/Victoria dimension of the book well beginning with Drew's distasteful look at Victoria when she first arrives and he also has the Darcy aloofness down to a tee. There is also something quite like the misreading between Darcy and Elizabeth at the Netherfield Ball, at a picnic Victoria and Drew are a part of, though more dramatic events follow which overshadow this aspect.
On the whole the colony milieu is recreated well, with all the usual back biting, gossip and insularity which can be expected of a closed community. If this had been a non-mystery specific novel then I think it would have achieved its aims better, as the mystery aspect of this is not its strongest point. I think this is because the narrative focuses on Victoria's experience more than the police investigation, which mostly happens off stage. Yet the non-police characters are not really proper amateur sleuths so the mystery lacks direction in some respects. I am also not convinced this is a mystery you could solve yourself as there are no really firm clues the reader can grasp, though to Kaye's credit she definitely wrong footed me with a phrase used early on in the story. So I think Kaye writes very well in terms of setting, narrative voice and her characters and I did get engrossed into the world she creates but on looking back at the mystery angle itself I think the investigation into the crimes needed a more overt presence.
Rating: 3.75/5
Bev at My Reader's Block is collecting all the posts this month for the Tuesday Night Bloggers so remember to check out her blog later today to see other TNB posts. Also here are the links for the last three weeks if you have missed any of them: